Kwai Fung Art Publishing House
INFINITIES BETWEEN INK AND GOLD
Regular price
Sale price
HKD$300.00
Unit price
per
Sale
Sold out
Published by Kwai Fung Art Publishing House in 2022, Infinities Between Ink and Gold, Catalogue Raisonné of the Gilded Works by Li Huayi 2008-2021 features a total of 44 pieces from the gilded series created by Li Huayi between 2008 and 2021, providing a comprehensive survey of the artist's aesthetic innovations through the incorporation of gold as a medium into traditional ink painting.
Born in Shanghai in 1948 and settling in San Francisco in 1982, Li Huayi's practice revitalises Chinese landscape painting traditions from the Song Dynasty through the lens of Western contemporary thoughts and approaches. In 2008, Li followed a new direction, executing ink paintings on antique Japanese gilded screens instead of paper. In 2019, he presented his latest series of works comprising ink and gold leaf on silk, showcasing whimsical and unrestrained pictorial expressions of poetic, immersive dreamscapes that project light and boundless space.
Featuring 27 ink on antique Japanese gilded screen works and 17 ink and gold or silver leaf on silk works, this book includes in-depth analysis of Li Huayi's oeuvre by Shawn Eichman, Curator of Asian Art at Honolulu Museum of Art, a biography and a comprehensive list of the artist's exhibitions accompanied by installation images, reflecting the development of Li Huayi's unique practice and his determined pursuit of innovation in traditional Chinese ink painting.
Infinities Between Ink and Gold - Catalogue Raisonné of the Gilded Works by Li Huayi 2008-2021

Publisher: Kwai Fung Art Publishing House
Publication Date: 2022
Format: Hardcover
Languages: English, traditional Chinese
Dimensions: 278 (H) x 293 (W) mm
Pages: 148
ISBN: 978-988-15623-0-2
Price: HKD 300
Please note that all sales are final and under no circumstances will we accept cancellations of orders or refunds for any items or events ordered on our website.
Shipping

We offer local and international SF Standard Express delivery services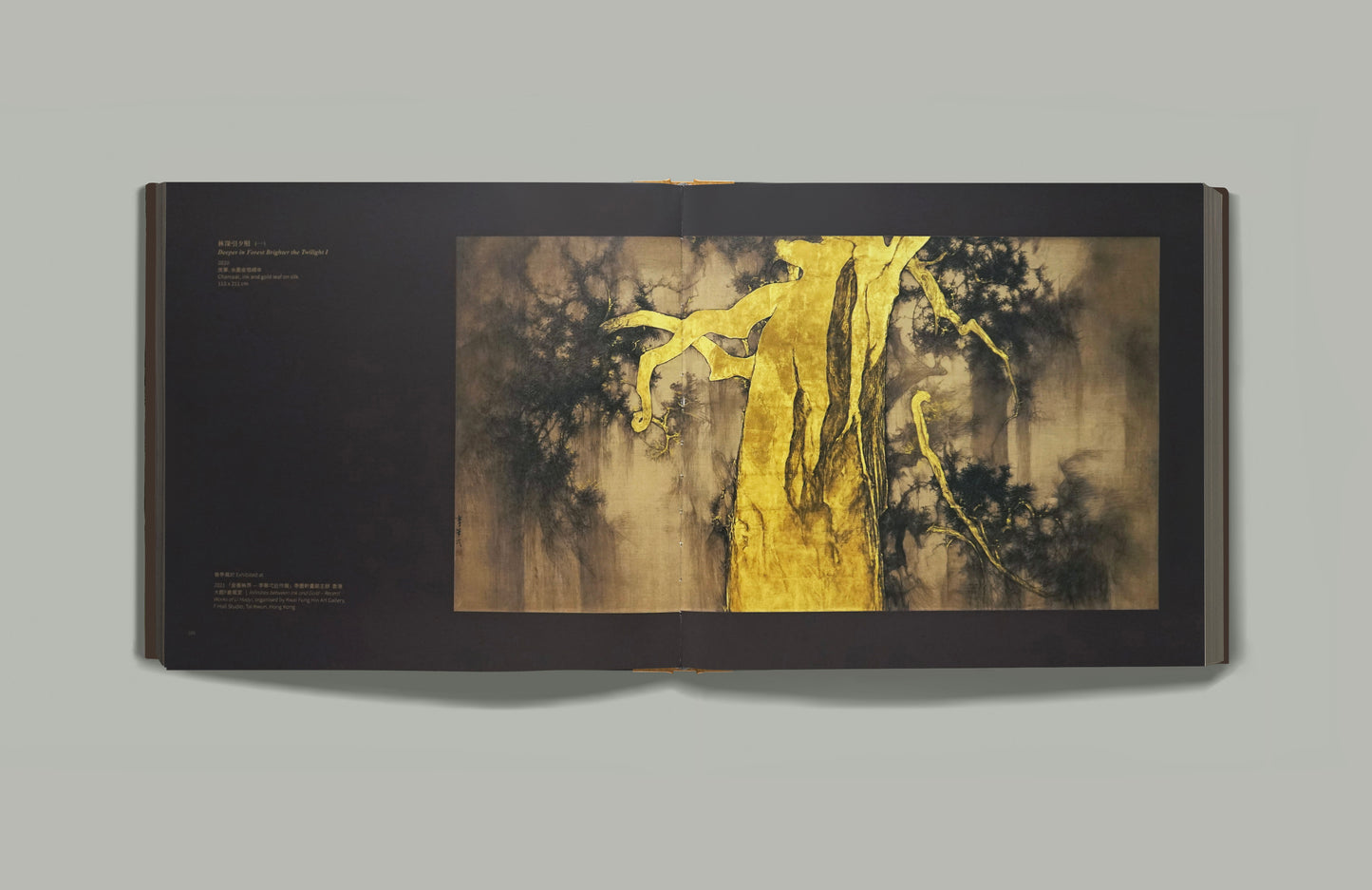 About Li Huayi
Chinese contemporary ink painter Li Huayi (b.1948) has revitalised the spirit of traditional literati painting through experimental Western techniques. Born in Shanghai and trained in traditional ink painting from a young age, Li's move to the States in the 1980s imparted an Abstract Expressionist flair to his works. Inspired by his pilgrimages to China's famous mountains, the following decades saw Li push the boundaries of abstract painting by integrating elements of traditional Chinese landscape art. This culminated in a signature style featuring monumental, yet intimate, mountain landscapes reminiscent of the Northern Song Dynasty rendered in exquisite detail on gilded surfaces.
Read More